Our Activities

Measures we take for society as a whole
Punch Industry takes our social responsibility very seriously as a member of the society, and contributes to the development of society and local communities through social contribution activities.
Acceptance of on-site practice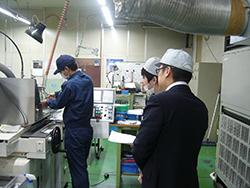 Punch Industry seeks to provide opportunities for local students to consider their personal career paths through learning about their local communities. With this in mind, we provide workplace tours and offer internships to students.
Cleanup and Beautification Campaigns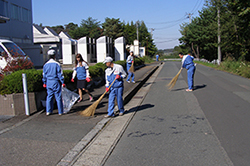 The Punch Group regularly performs cleanup activities on the premises of its head office and plants and their surrounding areas as part of its social contribution activities. As members of our local communities, we all undertake the activities together to contribute to the beautification of the environment and our communities.
Tree Planting Activity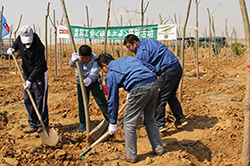 Punch Industry is taking an active approach to fulfilling its corporate mission as a dynamic company both in Japan and overseas aiming for a "worldwide punch" by tackling a wide spectrum of CSR activities. The Chinese business group is also engaged in activities contributing to social welfare and working to plant deep local roots in the area. Every year when spring arrives, the employees and their families participate together in tree-planting activities sponsored by the Dalian forestry bureau.
Eco-Cap Campaign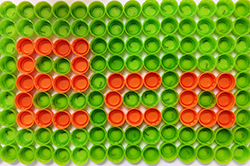 Punch Industry has taken part in the Eco-Cap Campaign run by the nonprofit
organization (NPO) Ecocap Movement since 2012. The aim of the campaign is to collect and sell plastic bottle caps that would normally be thrown out, and use the proceeds to purchase vaccines. Participation in this activity not only raises employee awareness concerning the environment and recycling, but also helps save the lives of children around the world.
Collection of Bell Marks and Used Postage Stamps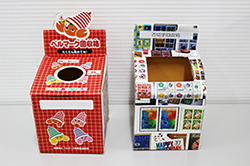 Since 2012, we have put collection boxes in several of our offices for employees to contribute "Bell Marks" found on product packaging, as well as used postage stamps. The Bell Marks are sent to the Bell Mark Foundation, which uses the proceeds to help schools buy textbooks and equipment, and to provide support to schools in remote areas, special schools, and education programs in developing countries. The used postage stamps are sent to a foundation that provides medical assistance overseas. The foundation funds health programs mainly in Asia and Africa to improve the health of people living in areas with inadequate healthcare.