Company Overview

Corporate Governance
Basic Policy
The Punch Industry Group makes dedicated efforts to enhance corporate governance practices to comply with laws and sincerely fulfill the corporate social responsibility, to ensure the soundness and transparency of management, to protect the interests of all shareholders, customers and other stakeholders, and to continuously increase the corporate value, under the following concepts:
1.Securing shareholders' rights and equality
2.Appropriately cooperating with all the stakeholders including shareholders
3.Ensuring transparency by appropriate information disclosure
4.Supervising business execution by the Board of Directors
5.Engaging in constructive dialogue with shareholders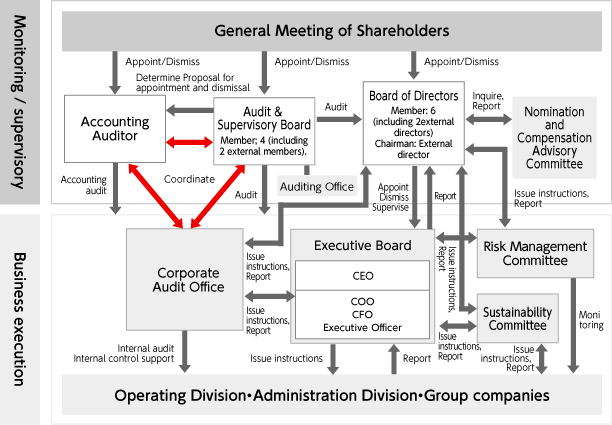 Decision-making Process
1.Board of Directors & Business Execution Structure
Punch Industry's Board of Directors, composed of a small number of members, seven directors (including two external director), is poised for prompt decision-making. The company holds the executive board as a decision-making body of the business execution, under the executive officer system, aiming to separate the monitoring/supervisory of the Board of Directors and executive functions of the management, and to define responsibilities and authority.
2.Executive Board
The Executive Board, composed of all executive officers, determines matters prescribed in resolutions/decision-making authority standards including important decisions on execution of business based on authority legitimately bestowed upon it by the Board of Directors.
3.Audit & Supervisory Board and its members
Audit & Supervisory Board is presently in place, composed of four members (including two external members). The council monitors the company's governance practices and implementation status, and conducts an audit of daily activities, including the execution of duties by the directors. The external members are lawyers, and are responsible for monitoring management practices from the perspective of compliance.
In addition, Punch Industry sets Auditing Office and allocates dedicated staff to ensure the smooth audit engagement.
4.Nomination & Remuneration Advisory Committee
Punch Industry sets the non-statutory "Nomination and Remuneration Advisory Committee" as an advisory body of the Board of Directors centering on the external directors and the external auditors in order to clarify basic policies and standards, and enhance fairness and transparency of decision-making process, for determining on the nomination and remuneration of directors and executive officers,and for determing on the nomination of Audit & Supervisory Boad Members.
5.Risk Management Committee
Composed of Directors, Audit & Supervisory Board Members, Executive officers, Chief of the Corporate Audit Office, the Risk management Committee overseas the development, maintenance and improvement of risk management and legal compliance frameworks.
6.Remuneration of Board Members, etc.
The method of deciding on the remuneration of directors and auditors is approved by unanimous resolution of all members of the General Meeting of Shareholders. The Board of Directors decides the specific amount of remuneration for each director upon the deliberation of appropriateness at Nomination and Remuneration Advisory Committee, and the Board of auditors decides the specific amount of remuneration for each auditor.